This is the season for gift guides, holiday-themed sales flyers and brochures advertising special
promotions and offers. While you may not have the resources or time to devote to designing
various print and digital marketing collateral, there are solutions that will do all the hard work
for you.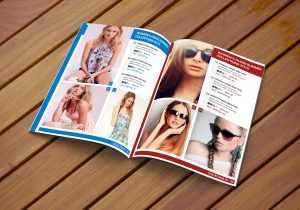 Creating a sales flyer for online stores from scratch can be simple. And it does not
require graphic design skills.
Online product magazines or catalog makers offer unique templates that can be customized
according to your needs. For example, if you want to showcase an upcoming clothing line
you're featuring in your store, your flyer can act as a "mini" look book to promote the
apparel and any special promotions.
Online catalog designers are versatile as they can combine several page layouts and design
styles. When creating a holiday gift guide, you can include a page of product images and
descriptions in addition to integrating modern and professional-looking lifestyle
photographs.
Online flyer makers make it easy to reduce the amount of text and include more compelling
images. Many tools actually pull assets from your store, virtually eliminating any "legwork"
on your part to put this together.

Marketing collateral should be multiplatform.
This year, 47 percent of the respondents to the PwC's global consumer survey said they
had made a purchase online using their smartphones. Designing your marketing and
advertising materials to be mobile-friendly is no longer a luxury: It's a must! Having multi-
platform content is essential now that many consumers are spending more time completing
tasks on their mobile phones than on desktop computers.
Imagine losing a customer because a brochure promoting a special offer is not displaying
correctly on mobile devices! If you are not optimizing your content for different devices,
you may end up frustrating your potential shoppers and driving them away. Make sure you
know what your e-catalogs and sales flyers look like on every platform. To save you time,
this e-catalog maker tool instantly builds collateral for multiple devices.